A Pineywoods Awarded CHAP Accreditation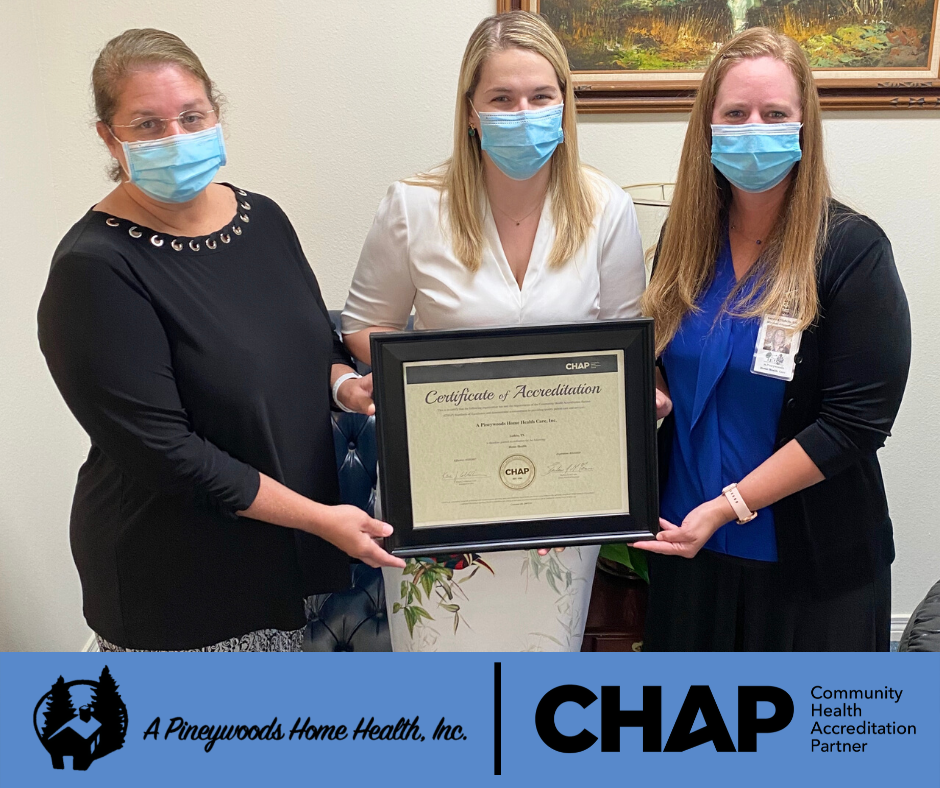 Community Health Accreditation Partner, Inc., (CHAP) has announced that A Pineywoods Home Health has once again been awarded CHAP Accreditation under the CHAP Home Health Standards of Excellence.
CHAP is an independent, nonprofit accrediting body for home and community-based health care organizations. Created in 1965, CHAP was the first to recognize the need and value for accreditation in home and community-based care with more than 5,000 organizations currently accredited nationwide. CHAP is a nationally approved accrediting organization who retains authority to survey agencies providing home health to determine if they meet the Medicare Conditions of Participation and CMS Quality Standards. CHAP's mission is to define, verify, and advance the highest quality of home and community-based care through its standards, accreditation, education, and research.
"By achieving CHAP Accreditation, A Pineywoods Home Health has shown a commitment to excellence," said Barbara McCann, CHAP President & CEO. "We are excited to continue our partnership with A Pineywoods Home Health by offering support in its commitment to providing quality care and continuous improvement."
CHAP Accreditation demonstrates that A Pineywoods Home Health meets the industry's highest nationally recognized standards. The rigorous evaluation by CHAP focuses on structure and function, quality of services and products, human and financial resources and long-term viability.
"We are committed to providing the highest quality care to all of our patients throughout East Texas," said Katie Naranjo, CEO of A Pineywoods Home Health Care, Inc. "Our accreditation as a CHAP agency demonstrates our commitment to excellence in quality of patient care and business practices as healthcare professionals."
Dr. Neal and Mary Ann Naranjo started A Pineywoods Home Health in 1992 as a result of searching for quality care in the East Texas area for his parents. The organization is family owned and operated and employs over one thousand people in the East Texas region between A Pineywoods Home Health and A Pineywoods Home Services.
A Pineywoods Home Health provides nursing, therapy, and social work services to patients and their families in over 50 East Texas counties. Staff coordinate care with physicians and all personnel to ensure the patient's needs are met by providing care and education to prevent rehospitalizations as well as facility admissions while patients are recovering from exacerbations of diseases such as COPD, Congestive heart failure, hypertension as well as surgical procedures.
A Pineywoods provides speciality programs such as diabetic management, heart failure symptom control, post acute therapy for orthopedic diagnoses and surgeries to ensure patients have a path to recovery and disease control. Other disease management protocols include post-hospital or facility transitional care, fall prevention, neurological rehabilitation and pain management interventions and education where a multiple disciplinary approach is used to ensure patients have outcomes necessary to control their symptoms and gain optimal health.
A Pineywoods Home Health is a 5 out of 5 star rated agency by the Centers for Medicare and Medicaid Services, which is the highest rating possible for quality of patient care. The agency has been able to care for thousands of East Texas families since its inception and continues to provide the highest quality of care for loved ones.
Kerri Griffin, A Pineywoods Home Health Administrator, states "A Pineywoods takes a team approach to ensure the needs of the client are met while achieving optimal outcomes. All of our skilled clinicians go above and beyond to deliver the best care available and their efforts shine through in their documentation as well as our client's progress toward improved health. We are proud to be able to serve East Texas."
About CHAP (Community Health Accreditation Partner, Inc)
For more information about the CHAP accreditation process, please visit the CHAP website at www.chapinc.org. For additional information, email info@chapinc.org or call 202-862-3413.
About A Pineywoods
A Pineywoods Home Health is a Medicare Certified, CHAP Accredited home health agency headquartered in Lufkin, Texas providing high quality, patient-centered care in the comfort of their home. The team is made up of highly qualified RNs, LVNs, therapists, home health aides, social workers, and caregivers. They believe in a team-approach to assisting patients in improving their quality of life and learning the skills to manage their primary diagnosis and other co-morbid conditions. A Pineywoods Home Health is a family owned and operated home health agency, serving East Texans for over 25 years.
For more information on this release, services offered, or employment opportunities, please visit https://www.apineywoods.com/ or call 936-634-1617.