Home Services Announces New Sign-On Bonuses for Caregivers
We are pleased to announce new and increased sign-on bonuses for caregivers looking for a job! We are also providing retention bonuses for current employees!
We are offering the following retention and recruitment bonuses to Regular Attendants who see at least 10 in-home hours per week, and Special Attendants who work at least 20 in-home hours per week on average. (see rate schedule below).
This updated bonus structure will replace the one announced on June 15th. It means all direct care staff who work for A Pineywoods Home Services will receive more money for your work sooner. If you have any questions regarding this announcement please call (936) 634-7982 and ask for the hiring department. Hiring department office hours are between 8am-5pm Monday through Friday. 
Effective Oct 1st:
• Regular attendants – $750 sign-on/ retention bonus, $100 with 2nd paycheck, $250 at 6th check, and $400 at 12th check (sign-on for new, retention for current)

• Special attendants – $750 sign-on/ retention bonus, $100 with 2nd paycheck, $250 at 6th check, and $400 at 12th check (sign-on for new, retention for current)

• Office Staff – $500 at 12th check, for office staff previously employed effective May 1, 2022 they will receive a $500 bonus at the 12th check from May 1st, which will be Nov. 4th.
• Office Staff – In addition to the retention bonus, we will offer a performance bonus to be paid in November. To qualify for the performance bonus, an employee must be employed 30 days prior to the bonus payment.
This is for all regulars who work over 10 hours per week and all special attendants who work over 20 hours per week during the timeframe outlined. All eligible employees must be in good standing, and actively employed during the timeframe, including clocking in and out correctly for EVV. Any employees who need to take leave from work will be eligible for bonuses, however time on leave will not count towards the bonus threshold.
Thank you all for continuing to provide amazing support to our Home Services clients in a difficult economic and employment climate. We appreciate you and will continue to find opportunities to direct resources toward employee retention.
Cardiac Rehab at Home: The Benefits of In-Home Rehab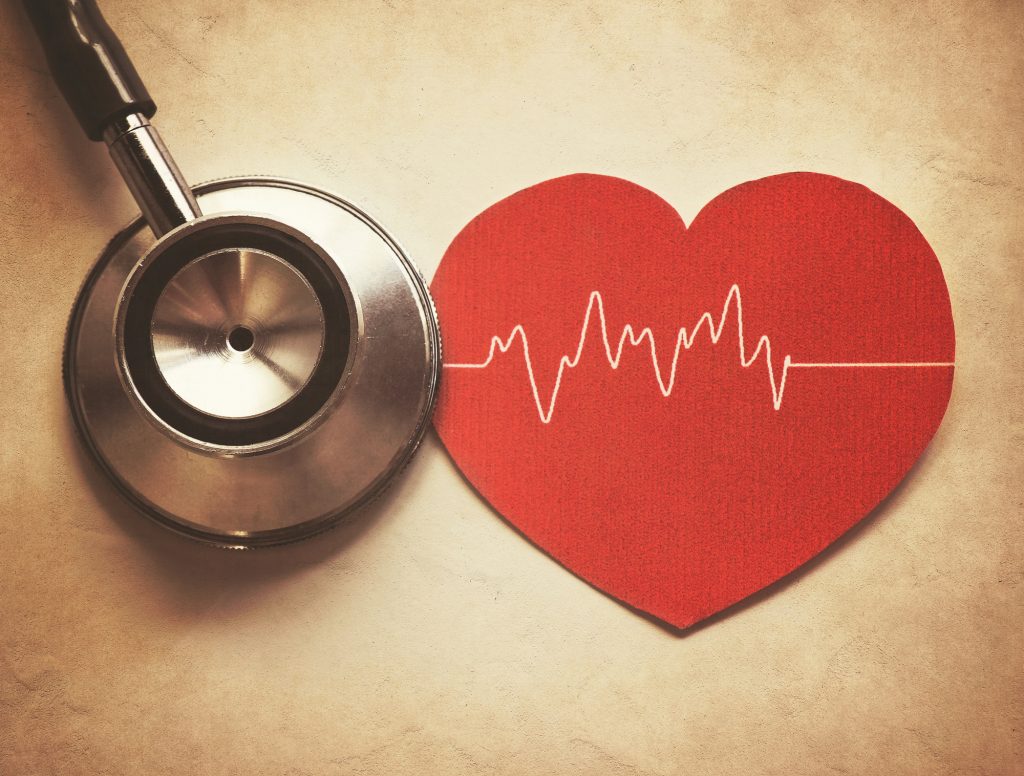 Each year, there are approximately 210,000 heart attacks that are recurrent. People who have fallen victim to cardiac disease can find themselves struggling to become completely well again. A vital part of the recovery process is cardiac rehab, but more frequently today people are turning to cardiac rehab at home as a solution.
Taking your rehab out of the hospital and into your home with the aid of professionals can be an alternative to standard hospital visits. Which can be forgotten or don't allow you the flexibility to do the important daily things that feel normal.
Read on to learn some of the most significant benefits of home health care.
Why Home Care Instead of Hospitals?
After suffering from cardiac illness, rehabilitation is a vital part of the recovery process which needs to be managed. Through regular physical exercise at a comfortable and appropriate level, your body is given the opportunity to heal. And if these exercises are missed, they can impede your condition and contribute to the worsening of your health. In fact, research suggests that completing a rehabilitation program may lower your chance of readmission into the hospital by as much as 20%. But physical exercise is not the only important aspect of your recovery. Mental health is critical to not only healing but aid in the entire process.
At times, it can be hard to get up and regularly travel to a hospital or clinic to complete your program. That is why completing your rehabilitation at home can be so beneficial. Instead of mustering the motivation to travel to appointments, you simply complete the program from home with the help of a professional who can guide you in your recovery. And this can also be an effective way to manage stress. Home health agencies can provide better care through home care.
For more guidance on what you can do to improve living conditions for you or your loved ones to aid recovery, click here.
Who Can Help?
There are plenty of home health agencies that can assist in the recovery process. But finding the right caregiver agency for you or your loved ones means finding the company that will be the right fit. After all, they will be spending plenty of time in regular contact with you and your loved ones to ensure the care provided is the best possible. Ensuring home health aides are properly qualified and capable of delivering an effective service to assist in the recovery process is essential.
To see some of the essential services which A Pineywoods can deliver for you, you can read about their cardiac rehabilitation program here.
Is Cardiac Rehab at Home an Option for Me?
Whether the services are for you or your loved ones, choosing cardiac rehab at home services can be an excellent option that can improve your recovery and be minimally intrusive. And we here at A Pineywoods are anxiously awaiting your call to assist in the recovery process and deliver the best results. You can contact us by clicking here to find out exactly how we can help.
Virtual Doctor Home Visits
Medicare now allows physicians to perform face-to-face visits via telemedicine to meet home health requirement.
Effective March 6, 2020, CMS expanded this benefit on a temporary and emergency basis under the 1135 waiver authority and Coronavirus Preparedness and Response Supplemental Appropriations Act. Under this new waiver, Medicare can pay for office, hospital, and other visits furnished via telehealth across the country and included in patient's places of residence. A range of providers, such as doctors, nurse practitioners, clinical psychologists, and licensed clinical social workers, will be able to offer telehealth to their patients.
How It Works
Our nurses and physical therapists are equipped with smart devices and telehealth equipment to assist our physicians to provide quality physician visits in the safety of the patient's home.
The patient must verbally consent to receive virtual check-in services with the provider.
Providers will be allowed to conduct the three types of visits via everyday communications technologies, such as FaceTime or Skype, during the COVID-19 nationwide public health emergency. For a visit to qualify for Medicare home health face-to-face regulation it must include audio and video communications
COVID-19 Response
A Pineywoods Home Health Care's top priority is the health and safety of our patients, our staff, and their families. While public health officials are still learning more about the symptoms and severity of COVID-19 vs. the flu, we understand the best way to prevent either illness is to take everyday precautions and limit community interactions for all persons in vulnerable populations. 
Throughout this period of increased COVID 19 and Flu Respiratory Illnesses, we continue to provide skilled nursing, therapy, social work, and home health aide services in accordance with all Centers for Disease Control and Prevention (CDC), Centers for Medicare and Medicaid Services (CMS), and state guidelines. We are monitoring information hourly and responding accordingly.
Taking Steps to Protect Our Patients and Staff In An Uncertain Healthcare Environment
Our nurses and physical therapists are taking steps to ensure all patients or caregivers with symptoms of suspected COVID-19 or other respiratory infection (e.g., fever, cough) adhere to respiratory hygiene and cough etiquette, hand hygiene, and triage procedures throughout the duration of the visit.
Our direct care staff is equipped with personal protective equipment to limit any transfer of illness from a care provider to patient. This equipment includes N95 masks, gloves, boot covers, gowns, eye protection, and hand sanitizer.
If ordered, telehealth equipment will be placed in the patient's home upon admission. Telehealth equipment includes: Pulse Oximeter, Glucometer Enabler, Blood Pressure Monitor, and Scale.
We are taking the necessary precautions to limit patient and staff exposure to all respiratory symptoms by tracking any reports of patient or staff respiratory illness. Our agency will enact measures to prevent spread of communicable diseases such as implementing isolation procedures for patients, removing staff from patient visits that exhibit symptoms until cleared by a physician or health department, coordinating care with the patients physician to ensure adequate care is provided in the home.
MSW Counseling is available for patients and families by phone to respond to mental health/behavioral health resources as needed by patients.
We can facilitate a telemedicine visit between patients and physicians with an LVN or RN in the home to collect vitals and any ordered labs as requested by the signing physician.
We will continue to work with healthcare providers, physician clinics, and hospitals via tele-communication, fax, email, and web portals to facilitate expedient care and respect all skilled facility precautions. Our 24-hour intake line is available to service any patients in need of home health care, referrals can be made via (888)-729-1831 or faxed to (936) 634-1729.
A Pineywoods Awarded CHAP Accreditation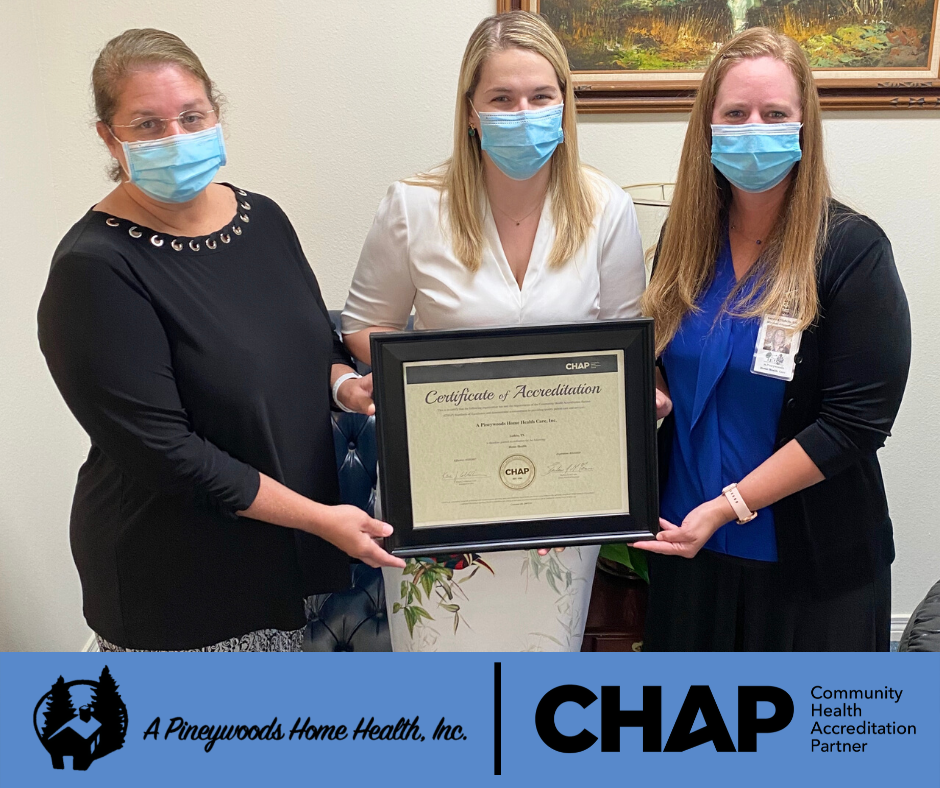 Community Health Accreditation Partner, Inc., (CHAP) has announced that A Pineywoods Home Health has once again been awarded CHAP Accreditation under the CHAP Home Health Standards of Excellence.
CHAP is an independent, nonprofit accrediting body for home and community-based health care organizations. Created in 1965, CHAP was the first to recognize the need and value for accreditation in home and community-based care with more than 5,000 organizations currently accredited nationwide. CHAP is a nationally approved accrediting organization who retains authority to survey agencies providing home health to determine if they meet the Medicare Conditions of Participation and CMS Quality Standards. CHAP's mission is to define, verify, and advance the highest quality of home and community-based care through its standards, accreditation, education, and research.
"By achieving CHAP Accreditation, A Pineywoods Home Health has shown a commitment to excellence," said Barbara McCann, CHAP President & CEO. "We are excited to continue our partnership with A Pineywoods Home Health by offering support in its commitment to providing quality care and continuous improvement."
CHAP Accreditation demonstrates that A Pineywoods Home Health meets the industry's highest nationally recognized standards. The rigorous evaluation by CHAP focuses on structure and function, quality of services and products, human and financial resources and long-term viability.
"We are committed to providing the highest quality care to all of our patients throughout East Texas," said Katie Naranjo, CEO of A Pineywoods Home Health Care, Inc. "Our accreditation as a CHAP agency demonstrates our commitment to excellence in quality of patient care and business practices as healthcare professionals."
Dr. Neal and Mary Ann Naranjo started A Pineywoods Home Health in 1992 as a result of searching for quality care in the East Texas area for his parents. The organization is family owned and operated and employs over one thousand people in the East Texas region between A Pineywoods Home Health and A Pineywoods Home Services.
A Pineywoods Home Health provides nursing, therapy, and social work services to patients and their families in over 50 East Texas counties. Staff coordinate care with physicians and all personnel to ensure the patient's needs are met by providing care and education to prevent rehospitalizations as well as facility admissions while patients are recovering from exacerbations of diseases such as COPD, Congestive heart failure, hypertension as well as surgical procedures.
A Pineywoods provides speciality programs such as diabetic management, heart failure symptom control, post acute therapy for orthopedic diagnoses and surgeries to ensure patients have a path to recovery and disease control. Other disease management protocols include post-hospital or facility transitional care, fall prevention, neurological rehabilitation and pain management interventions and education where a multiple disciplinary approach is used to ensure patients have outcomes necessary to control their symptoms and gain optimal health.
A Pineywoods Home Health is a 5 out of 5 star rated agency by the Centers for Medicare and Medicaid Services, which is the highest rating possible for quality of patient care. The agency has been able to care for thousands of East Texas families since its inception and continues to provide the highest quality of care for loved ones.
Kerri Griffin, A Pineywoods Home Health Administrator, states "A Pineywoods takes a team approach to ensure the needs of the client are met while achieving optimal outcomes. All of our skilled clinicians go above and beyond to deliver the best care available and their efforts shine through in their documentation as well as our client's progress toward improved health. We are proud to be able to serve East Texas."
About CHAP (Community Health Accreditation Partner, Inc)
For more information about the CHAP accreditation process, please visit the CHAP website at www.chapinc.org. For additional information, email info@chapinc.org or call 202-862-3413.
About A Pineywoods
A Pineywoods Home Health is a Medicare Certified, CHAP Accredited home health agency headquartered in Lufkin, Texas providing high quality, patient-centered care in the comfort of their home. The team is made up of highly qualified RNs, LVNs, therapists, home health aides, social workers, and caregivers. They believe in a team-approach to assisting patients in improving their quality of life and learning the skills to manage their primary diagnosis and other co-morbid conditions. A Pineywoods Home Health is a family owned and operated home health agency, serving East Texans for over 25 years.
For more information on this release, services offered, or employment opportunities, please visit https://www.apineywoods.com/ or call 936-634-1617.
Employee COVID-19 Hazard Pay Program
Today, A Pineywoods Home Health Care announced enhanced investments in their healthcare workers by offering hazard pay, childcare reimbursement and paid sick leave. Healthcare workers increase risk of exposure while in the line of duty caring for patients. Delivering the best care to patients involves recognizing those that are providing the care.
The novel disease COVID-19 requires extreme sacrifices of millions of essential workers, especially those in the healthcare industry, who keep the country running by performing "essential" jobs. The health and safety of these workers and their families are put at risk each time they leave their homes for work.
"Neal and I want to express our appreciation to our staff, both field clinicians and office staff for working so steadfastly during this tough time, especially our clinicians and providers that are going into the field," state A Pineywoods owners, Neal and Mary Ann Naranjo, "they are making sacrifices everyday by going into the field and we want to make a tangible expression of how much we appreciate the devotion they have to care for patients and those in need."
Many of the items A Pineywoods is putting in place are not required at the federal, state, or local level but being able to show additional value to those that are caring for some of the most vulnerable patient population is the type of core values we want to continue to show during times of success and tribulation. It's easy to lead when things are going well, but how you treat your employees during uncertain times will be remembered for years to come. Our tiered hazard pay system will include: stipends based on the amount of risk assessed by exposure and job classification, childcare reimbursement to assist with the closure of schools and daycares, and paid sick leave due to exposure, symptoms, or caring for a sick child.
"We are proud to lead locally on the creation of policies that support our essential healthcare workers. Budgets are moral documents, and we believe in the personal and financial value of our nurses, therapists and caregivers, who risk exposure by caring for our over 1700 patients. We are thankful to work with our local SBA lending bank to support our staff, and call for additional state and federal resources so that larger organizations can join us in offering hazard pay, sick leave, and childcare benefits to their frontline healthcare workers." said Katie Naranjo, CEO at A Pineywoods Home Health Care and Home Care Services.
Protocols have been put in place for COVID-19 to enhance the safety of staff and patients that are being cared for in their homes; enabling vulnerable citizens to remain at home and have the care necessary to manage their health conditions. Increasing safety protocols and wearing the necessary personal protective equipment (PPE) brings a sense of physical security while offering increased stipends for risk exposure gives more financial security. The health and safety of staff is paramount and that goes beyond physical considerations to include mental and financial health.
Kerri Griffin, A Pineywoods Home Health Administrator, states "I am very thankful for our staff that care so much for our patients and are persevering on the front lines during this pandemic while coping with the struggles of childcare and school closures, family illnesses, and financial hardships. A Pineywoods staff is not just a group of co-workers, we are family. I am happy that we are able to offer our employees: adequate PPE per CDC guidelines, childcare assistance, paid sick leave, and hazard pay during these difficult times. We appreciate our staff and the care they provide and want to be of service to them while they serve our community."